Welcome home to a place in downtown Peoria where you can connect and grow
The long shutdown has reminded us that the church is not a building, but it is the people. Our campus isn't just a location in beautiful downtown Peoria, but it's also in our homes and all the places where we gather. Here are quick links to all the ways we are learning to be the church even through the restrictions of this long pandemic. Even as we enter the phase of slowly and gently reopening, these are ways you can participate in our ministry work no matter where you are.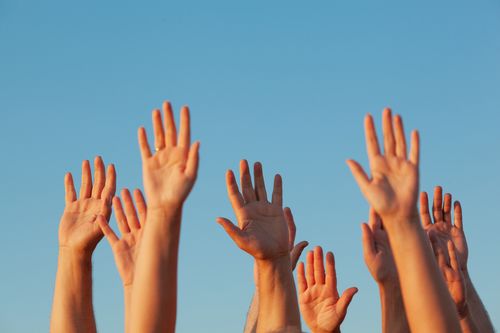 We're practicing digital nearness in a time of social distancing. We want to stay in touch with you in the best way possible, so if you watch one of our online broadcasts, would you be so kind to let us know you're here? Just click the button below and check in. Feel free to add prayer requests or any other comments.
On site worship services have resumed. Due to restrictions on the number of people we can allow into the building, we ask that you click here to register to attend in advance by noon the preceding Friday.
We offer Zoom classes and small groups throughout the week. Adult Sunday School on Sunday mornings at 9:45 AM, Pastor's Bible Study on Wednesday mornings at 9:30 AM, and several small groups. If you would like to participate, please click the response button below and we will send you an invitation. If your small group would like to use Zoom to meet, you can also use the contact form and we will help you set that up.
Click here to go to our media page where you can view live worship services as they happen, or check out our worship service archives.
This isn't your typical church podcast. It's an in-depth look at the topics and issues that are important in the Peoria region, great stories of hope, and ways that you can make a difference in the world around you. 116 is our address, but it's also a reflection of our heart.
We have a special place for our youngest, and youngest at heart. Join us on our Wee Bitties page for these special broadcasts. And, be sure to have your thumbs up!
Take a look at the October edition of The Herald magazine online to find out how we are going HIGHER, WIDER, CLOSER, and DEEPER together despite the shutdown. Plus, many great musical ideas for worshiping beyond the restrictions of the day.
If you are able to give, your offerings assure that our work for Jesus will continue strong long after the present day threat has passed.
Interactive Worship for Kids
We are excited to offer an interactive worship experience for children each Sunday that includes video Bible lessons, prayer, activities to go with the lessons, children's messages, and more. Click below to give your children the freedom to worship our God on their level!
In 2019, FUMC donated over 280 backpacks of toiletries, blankets and other daily supplies to immigrants and families in need at the Mexico-US border. Recent changes in immigration policy, as well as COVID-19 restrictions, have changed the way we can help. This year, we are partnering with Manos Juntas (Hands Together), a United Methodist Ministry in Mexico, and our partner churches at the Mexico-US border. They will provide and distribute space heaters, blankets and other needed items. Please consider a monetary gift by Nov 15. Use one of your normal giving options and specify, "Border Blankets". Download our informational pdf for more details.
November 1 (All Saints Sunday) is a day where we remember our loved ones who have died this past year (11/1/19-10/30/20). This year we will celebrate their lives with a video tribute. Please submit your loved one's name, a high resolution picture, and the dates they lived. This information will be included in the video. Your submission gives us permission to list their name and use their likeness. Please email the name and picture by Friday, October 30.
Tailgate with us Oct. 31, 3-5 PM
Travel through the life of Jesus while playing family minute to win it games, roast hotdogs, and make s'mores. In order to keep everyone safe, we are asking that you bring chairs, sit in groups with just your family, and wear a mask. Register by Wed Oct 28. Here is what you'll need to bring:

Chairs

A small table or 2 tv trays (let us know if you need us to provide this)

Drinks

Roasting sticks and/or a small grill if you prefer not to share with others

Team Flag (Poster board or cloth, we will provide the flagpole)


We will supply:

Materials for games

Hot dogs
S'mores


Once registered, all you have to do is come up with a team name, a family flag (we will have a stick to attach them to), and read the devotions that will be emailed. Prizes will be given for most creative team name, team flag, and more.
Watch our fun tailgate party video promo, and be sure to stay til the end for maximum fun!
We're easy to find in Downtown Peoria
Set your GPS: 116 NE Perry Ave., Peoria, IL
We're in walking distance to the Convention Center, Peoria Public Library, the Federal Building and even a great little coffee shop.
"I believe you'll find us to be a place where you can find the love and grace of Jesus, and the encouragement of a church family and friends. This is a place where we are all challenged to make a difference."
Rev. Dr. Tim Ozment, Directing Pastor
Click on any of these panels to begin your tour of the ministry opportunities and groups available here at FUMC.
Our youth are selling
2-PLY COOLING MASKS
IN THREE POPULAR DESIGNS

To benefit our youth Northern Ireland Mission Team 2021

FIVE DOLLARS EACH

THREE FOR TWELVE DOLLARS
Music is an important part of our DNA at First. Join us here to find out what is coming up and how to get involved with our excellent music programing.
The Foster Gallery for Christianity and the Fine Arts was established to nurture mutual understanding and appreciation of the connection between art and faith, and to develop and strengthen relationships between artists, the community, and the church.
Starting with the transformation of our own community, we stretch our hands out across the world to be a part of sharing the Good News and resourcing communities around the world.
Forms, Reports, & Church Calendar
Here's your convenient connection to forms you might need to connect with specific areas of our ministry work and our church calendar. You'll also find pdf downloads of reports and information that enhance your encounters with our various areas of ministry.
We have a mission and a ministry that is strengthened by the generous gifts of our people. Click here to learn about our giving options, including convenient digital giving.
Check out our monthly print publication, The Herald, for stories about the heart of our ministry work together. Click this page to download the digital pdf version.
If you are in need of assistance, click here to find out about the services we provide and information about other resources for help.