The mission of the Foster Gallery for Christianity and the Fine Arts is to nurture mutual understanding and appreciation of the connection between art and faith, and to develop and strengthen relationships between artists, the community, and the church.
The Foster Gallery is made possible by the generous support of the Foster Endowment through the Peoria First United Methodist Church Foundation .
Ellen Foster was a member of First United Methodist Church who endowed the Thomas S. Foster Endowment for Christianity and the Fine Arts. "Ellie" was known to friends as a talented, gracious, spirit-filled lady who strived to make a difference. Active in both church and civic activities, this gallery is named for the Fosters in honor of their contribution "to provide partial funding of an outreach ministry of First United Methodist Church of Peoria which will focus on the impact of Christianity on the fine arts."
The public is welcome to all events and exhibits at no cost.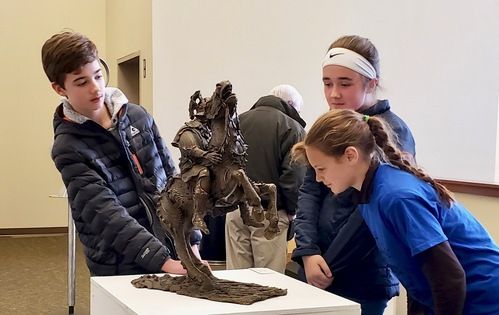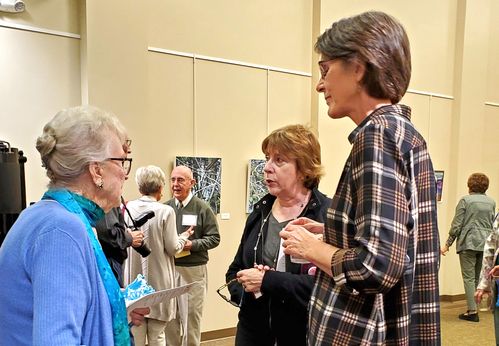 At this time, the Foster Galley is closed indefinitely due to the restrictions of the COVID pandemic.
Below are the hours once we are able to return to normal operation.
Monday through Friday | 9 AM - 5 PM
Sunday | 8:30 AM - noon
Other showings by appointment
Dawn to Dusk is an exhibit of photographs by three local photographers. Gwen Bateman, Jim Bateman and Jeanette Kosier take you through a day sharing nature and the beautiful world around us from dawn to dusk. Though the world is going through difficult times, we will survive and hopefully be stronger, more caring, and understanding in the days to come.

Gwen starts the day with the first light capturing brilliant sunrises many over the Illinois River across the street from her home. As the day progresses Jim takes an afternoon drive with his camera in hand and shares city sights, nature's creatures great and small and always finds a bit of humor to make us smile! Finally at the end of the day Jeanette captures the last light of the day at a variety of locations across the country and abroad as the sun disappears from view.

We hope that these photographs will brighten your day and bring you peace and comfort. Hopefully you will envision times when you will be able to look forward once again to brighter days, walks in the park and maybe lunch or a riverboat ride with friends on the Illinois.

This exhibit is made possible by the Peoria First United Methodist Church Foundation.

Photos are subject to copyright, all rights reserved.


Gwen Bateman
Gwen has always loved taking pictures. As a retired special education teacher, she has more time to do it now as well as help teach photography classes to children. She often exhibits her photos and makes greeting cards.

Loving nature and its constant changes, Gwen takes a walk along the river each morning as the sun comes up. Lately it has been coming up so late that she is often home before it rises. When the sun comes up, its light gives everything such a rich, vibrant glow. Even if you are not a photographer, take a look out your window at sunrise, you'll be amazed.

Jim Bateman
Jim has always taken pictures but got serious about 25 years ago, mainly documenting Community Ministries at FUMC (he loved shooting the kids' soccer games). Jim is now the volunteer "official photographer" for several organizations. He and Gwen go out regularly on photo shoots and come home with completely different pictures. She leans toward the artistic and great use of color while he tends to focus on technical aspects and composition. Jim follows the rule, "Always take your camera with you." That's easier now with cell phones, but in earlier days he was "that guy with the camera."

Jeanette Kosier
Jeanette is a former educator for District #150 and a volunteer at the Foster Gallery. She is presently a member of the Peoria Camera Club, and enjoys outings with fellow photographers. Jeanette enjoys exploring nature and photographing wildlife at nearby locations such as Banner Marsh, Spring Lake and Emiquon. She would enjoy sunrises if they started later in the day, so instead looks for the perfect sunset at day's end.


Hold curser over image to view title information. Hold curser over image, then click arrows to navigate through the collection. Or, you may also click on the thumbnails at the bottom to select an image.
Contact the Foster Gallery